News -
ΟΜΟΓΕΝΕΙΑ
Πέμπτη, 02 Ιούνιος 2016 17:00
Mayor of Thessaloniki Yannis Boutaris Recipient of "Damaskinos Award"
Mayor of Thessaloniki Yannis Boutaris was the second recipient of the "Damaskinos Award" on June 1, 2016 in New York City.
The award goes to individuals who have promoted and defended tolerance and cooperation among all religions in Greece. Yiannis Boutaris has undertaken and implemented many important initiatives - among them is the founding of The Holocaust Museum and Educational Centre.
His efforts have contributed to the recognition of the significant role of the Sephardic Jews to the rebirth, prosperity and culture of this City during the past five centuries. In particular, Mayor Boutaris' ability to foster ties between the Jewish and Christian communities in Greece speaks to our own pluralistic New York, where many tens of thousands of people of Greek origin reside and work.
News -
ΟΜΟΓΕΝΕΙΑ
Δευτέρα, 30 Μάιος 2016 17:15
AMERICAN HELLENIC EDUCATIONAL
AHEPA Honors America's Fallen Heroes
Ahepans Lay a Wreath at Tomb of the Unknowns,
Visit More Than 600 Gravesites at Arlington National Cemetery
WASHINGTON (May 30, 2016) - A proud tradition continued Memorial Day 2016 when members of the American Hellenic Educational Progressive Association (AHEPA), a leading association for the nation's millions of American citizens of Greek heritage and Philhellenes, paid their respects on behalf of the American Hellenic community to those who gave the ultimate sacrifice for freedom, democracy, and liberty at Arlington National Cemetery.
Brother George Karatzia, who served in the U.S. Army and is a Vietnam War veteran; retired U.S. Army Col. Nicholas P. Vamvakias, who served two combat tours in Vietnam where he received the Silver Star, America's third-highest award for Valor and three awards of the Bronze Star, one for Valor, and the Purple Heart; and Executive Director Basil Mossaidis participated at the wreath-laying ceremony at the Tomb of the Unknowns. An Honor Guard Specialist assisted them. Since 1924 Ahepans have returned annually to Arlington to lay a wreath at the Tomb of the Unknowns.
"This was one of the most powerfully moving experiences of my life," Karatzia said. "We honored the sacrifices of those throughout our nation's history who paid the ultimate price, and we expressed--in a small yet significant way--our community's gratitude to our nation's fallen. It was especially meaningful to perform this ceremony as our brave men and women remain in harm's way."
Estimated 660 Gravesites Memorialized at Arlington
On Saturday, May 28, 2016, AHEPA family members from the Washington, D.C. metro area, led by AHEPA Chapter 31, Washington, D.C., Col. Peter N. Derzis Chapter 438, Arlington, Va., and Molon Labe Chapter 542, Dulles, Va., gathered to memorialize those identified as Greek Americans or
Greek Orthodox who are buried at Arlington National Cemetery. According to organizers, there are roughly 660 gravesites at which AHEPA and Daughters of Penelope members present a laurel wreath and pause in remembrance of those who perished for our nation. This ceremony has been performed annually since 1949.
"I commend the AHEPA family of the Metro Washington, D.C. area for its carefully detailed effort to properly honor and remember the memory of those brave souls of our community who sacrificed so much for freedom," Supreme President John Galanis said.
Founded in 1922 in Atlanta, Georgia, on the principles that undergirded its fight for civil rights and against discrimination, bigotry, and hatred felt at the hands of the Ku Klux Klan, AHEPA is the largest and oldest grassroots association of American citizens of Greek heritage and Philhellenes with more than 400 chapters across the United States, Canada, and Europe.
AHEPA's mission is to promote the ancient Greek ideals of Education, Philanthropy, Civic Responsibility, and Family and Individual Excellence through community service and volunteerism.
News -
ΟΜΟΓΕΝΕΙΑ
Τετάρτη, 25 Μάιος 2016 13:32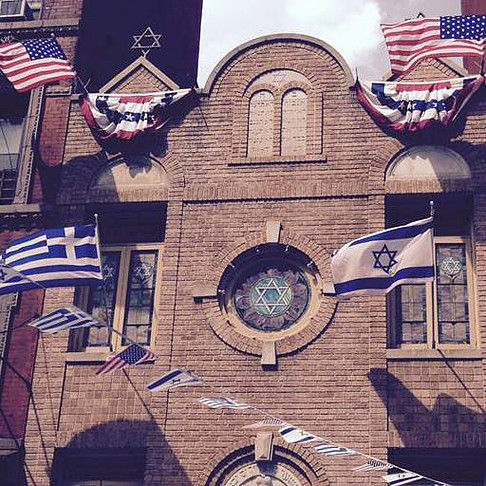 Hungry for baklava and knowledge?
If you find yourself in the NYC area this Sunday (May 22nd), try the Greek Jewish Festival, based out of Kehila Kedosha Janina, (no, you don't have to be Greek and/or Jewish).
After last year's smash inauguration (they had about 2,000 attendees), this year's street fair will be bigger, better, and tastier (and trust us, last year was tasty). This festival offers a new musical lineup (including Rebetika, known also as "Greek soul music"), more family activities, and food that includes a vintage Good Humor truck selling kosher ice cream (because why not?).
"We're adapting and reinventing what it means to be a Greek Jew, and to celebrate a culture and a heritage," Andrew Marcus, the festival's director, told Jewcy. "We see this festival as another key component of sustaining and revitalizing our communtiy for the next generation."
While Greek Jews suffered greatly in the Holocaust (about four-fifths of the population perished), American Jews seem to forget that there are plenty of Greek Jews among us today. They are either descendants of survivors or those who emigrated before the war (hello, Hank Azaria).
Kehila Kedosha Janina, is over a century old, and its current building, which contains a small museum, is almost 90. Sunday's festival centers on the synagogue at 280 Broome Street on the Lower East Side, and takes over the street.
The congregation is notable for several reasons, such as its continued existence on the Lower East Side, its Greek roots, and more specifically, uniquely amongst American synagogues abiding by Romaniote customs. While some Greek Jews are Sephardic, Romaniote Jews are a distinct group that these days live almost entirely in Israel and the United States.
Marcus noted that a touching part of last year's festivities was seeing Greek Jewish families reunite, and this year plans to include a map of the region where attendees can mark where their families came from in Greece, Turkey, or the Balkans.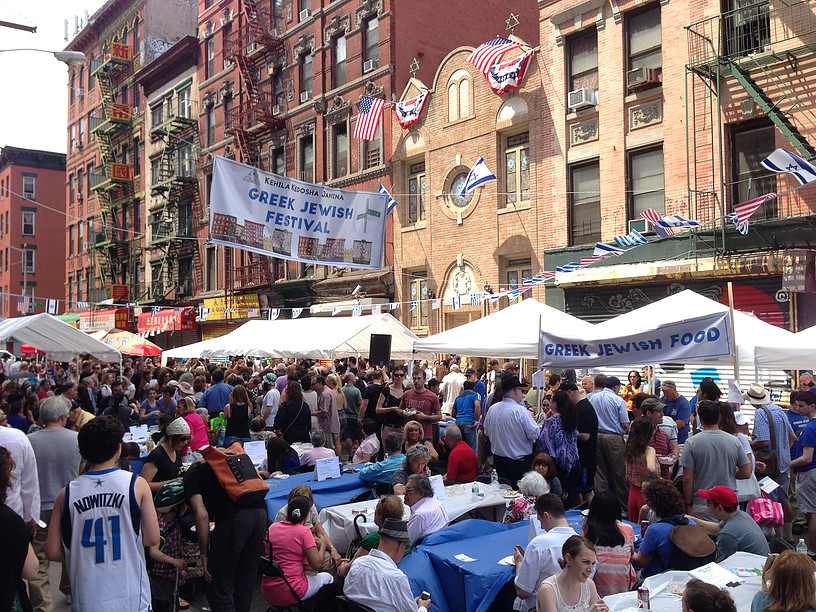 The festival (more information on Facebook or its website) runs from noon to six, and thousands are going to come by. Be one of them: Hear some amazing music, eat great food, and learn about a Jewish group that's bent on not only surviving, but thriving.
Images courtesy of the Greek Jewish Festival.
http://jewcy.com/jewish-arts-and-culture/the-greek-jewish-festival
News -
ΟΜΟΓΕΝΕΙΑ
Τετάρτη, 25 Μάιος 2016 13:30
AHEPA e-News! - Vol. 10 Issue 21 - Wednesday, May 25, 2016
Civic Responsibility | AHEPA Family Capitol Hill Day Held Today
Today, AHEPA family members from across the United States will
participate in the annual AHEPA/DOP Capitol Hill Day. Participants will meet with congressional offices to discuss the AHEPA family's public policy priorities for the 114th Congress.
"Our mission, strongly founded on our cultural heritage and our community service programs, guides our legislative agenda," Supreme President John W. Galanis said. "As such, we have a diverse set of legislative interests, both foreign and domestic, that reflect our mission. We believe this makes the AHEPA family unique in its approach to Congress."
The Hill Day kicks-off with a morning reception that will feature remarks from U.S. Reps. Gus Bilirakis (R-FL) and Carolyn Maloney (D-NY), co-chairs of the Congressional Caucus on Hellenic Issues. The audience will also hear remarks from U.S. Reps. Dina Titus (D-NV) and Niki Tsongas(D-MA).
The Hill Day also serves as a day to generate interest among U.S. representatives to join the Hellenic Caucus.
Deadline Extended | AHEPA Journey to Greece Program
AHEPA and Webster University are teaming-up once again to offer college students the opportunity to study abroad in Athens, Greece this summer and earn college credit through the AHEPA Journey to Greece program. Journey to Greece, a program which has been a fixture in the community for decades, will be held June 23 to July 23, 2016. The deadline to apply for the 2016 session has been extended to May 31.
Hellenic Caucus Membership at 136. Help It Grow.
ACTION ITEM | Help Us Grow the Hellenic Caucus!
Congress has returned to Washington to commence the Second Session of the 114th Congress. AHEPA asks that you help us to grow the Congressional Caucus on Hellenic Issues to newer heights. The Hellenic Caucus has been an active, bipartisan group in Congress since its founding in 1995. It is co-chaired by U.S. Reps. Gus Bilirakis (R-FL) and Carolyn Maloney (D-NY).
Membership in the Hellenic Caucus stands at 136.
Ahepans tour the Saint Nicholas construction site.
AHEPA is determined to meet its Saint Nicholas Capital Campaign fund raising goal. The administrative year is well underway and donations--large and small--are pouring in for AHEPA's #RebuildStNicholas capital campaign.
NEW! We sincerely thank Chester-Delco Chapter 79, Media, Pa. for its $1,000 donation to the campaign to help rebuild St. Nicholas National Shrine! Thank you!
Brothers from Mother Lodge Chapter 1, Atlanta, present their donation to help rebuild St. Nicholas National Shrine.
Has your district or chapter organized a fundraiser for the campaign to #RebuildStNicholas? Take action and support AHEPA's campaign today! Please tweet about your fundraising activity by using #RebuildStNicholas to share your work with the broader community!
Thanks to a live webcam, you can watch progress being made with a first-hand look at the site where Saint Nicholas National Shrine will be build.
Check out the spring winter issue of The Ahepan! Share it with family and friends by forwarding this electronic version.
Read about how AHEPA and Congress came together in appreciation for a World War II hero, recap AHEPA's participation on a Leadership Mission to Israel, Cyprus and Greece in January, and catch a preview of the 94th Supreme Convention to be held this summer in Las Vegas. Also, check out the latest on how AHEPA chapters give back to the community.
Click on the magazine icon to read it today!
June
1 | Deadline for Delegate Reporting Forms to be postmarked
24 | Deadline to Pre-Register for the Supreme Convention
Greek American News Digest
Eurogroup to disburse 10.3 bln euros in two installments; first in June, say gov't sources ANA-MPA (May 25) BRUSSELS (ANA-MPA/M. Aroni) - The Eurogroup is expected to announce that Greece's next loan installment will total 10.3 billion euros and will be disbursed in two sub-tranches of 7.5 billion in June and 2.8 billion in September, government sources said on Tuesday, as a Eurogroup meeting discussing the country's program review and debt issue got underway in Brussels. read more
The Greek Jewish Festival! Jewcy (May 19) While Greek Jews suffered greatly in the Holocaust (about four-fifths of the population perished), American Jews seem to forget that there are plenty of Greek Jews among us today. They are either descendants of survivors or those who emigrated before the war (hello, Hank Azaria). Kehila Kedosha Janina, is over a century old, and its current building, which contains a small museum, is almost 90. Sunday's festival centers on the synagogue at 280 Broome Street on the Lower East Side, and takes over the street. read more